Stella M. Rouse is a Professor in the Department of Government and Politics, Director of the Center for Democracy and Civic Engagement, and Associate Director of the University of Maryland Critical Issues Poll at the University of Maryland.
Dr. Rouse's research and teaching interests focus on youth politics, Latino politics, minority politics, state politics, civic engagement, and immigration. She is the author of two books:  Latinos in the Legislative Process: Interests and Influence (Cambridge University Press, 2013), which was voted as one of the best political science books of 2013 by The Huffington Post and The Politics of Millennials: Political Beliefs and Policy Preferences of America's Most Diverse Generation (co-authored with Ashley Ross), which was published in August 2018. She has published articles on how generational and ethnic identities influence climate change beliefs, the effect of electoral structures on minority representation, religion and ethno-racial political attitudes, and Latino representation and education.
Dr. Rouse's research has been funded by the Ford Foundation, the National Science Foundation, and the Russell Sage Foundation. She has presented her work at such forums as the Brookings Institute, The Woodrow Wilson International Center for Scholars, and the Center for Comparative Studies in Race and Ethnicity at Stanford University. She has also written for such media outlets as the Washington Post, The Hill, The Conversation, Reuters, and NBC News. Rouse is a board member for the "Women Also Know Stuff" initiative and a former fellow at the Public Religion Research Institute.
Rouse is a native of Colombia. When she was two years old, her parents immigrated to Ft. Lauderdale, Florida where she grew up. She fluently speaks, reads, and writes Spanish.
Areas of Interest
Latino Politics, minority politics, youth politics, legislative and political behavior, state politics, and immigration.
Degrees
Degree Details

Louisiana State University, 2008
Stella Rouse teaches both undergraduate and graduate courses, focusing primarily on minority politics, state and local politics, civic engagement, and scope and methods for political science research.
Stella Rouse's work is situated within the field of American politics with a specialization in Latino politics and a concentration on minority/identity politics. Broadly defined, she examines how minorities behave both within political institutions and in the mass public.
Most recent published work:
"Partisan Misalignment and the Counter-Partisan Response: How National Politics Conditions Majority-Party Policymaking in the American States," with Nicholas Miras. British Journal of Political Science 2021 (online first).
"(Young) Generations as Social Identities: The Role of Latino*Millennial/Generation Z in Shaping Attitudes about Climate Change," with Ashley Ross. Political Behavior, 2020. DOI DOI:10.1007/s11109-020-09649-8
"Gen Z, Gender, and COVID-19," with Melissa Deckman, Jared McDonald, and Mileah Kromer. Politics & Gender, 2020. DOI DOI:10.1017/S1743923X20000434.
"The Impact of Electoral Arrangements on Minority Representation: District Magnitude and the Election of African American State Legislators," with Paul Herrnson and Jeffrey Taylor. Election Law Journal, 2020. 19 (1): DOI 10.189/elj.2019.0581.
"Polarization of Climate Change Beliefs: The Role of the Millennial Generation Identity" with Ashley Ross and William Mobley. Social Science Quarterly, 2019. Early View DOI: 10.1111/ssqu.12640.
The Politics of Millennials: Political Beliefs and Policy Preferences of America's Most Diverse Generation, with Ashley Ross (August 2018).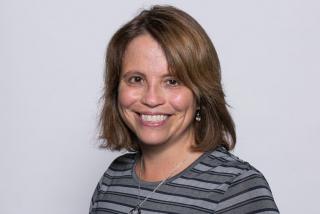 3140 Tydings Hall
Department of Government and Politics