SoRelle is a PhD candidate studying the U. S. Congress. Interests include committee and congressional leadership, the budget and appropriations process, and public policy. From 2019 - 2021 she served as an APSA Public Service Fellow in the U. S. House. Prior to joining the University of Maryland she worked in the U. S. House of Representatives and U. S. Senate. 
Gaynor, S. W. & Gimpel, J. G. (2021) Small Donor Contributions in Response to Email Outreach by a Political Campaign, Journal of Political Marketing, DOI: 10.1080/15377857.2021.1910611
Gaynor, S. W., & Gimpel, J. G. (2021). Reapportioning the US Congress: The shifting geography of political influence. Political Geography, 86, 102365.
U.S. Congress. House Select Committee on the Modernization of Congress. Final Report. Washington: U.S. Government Publishing Office, October 2020. (1009-E). (Y 4.2:M 72/R 29). Lead Author, with support from the American Political Science Association Public Service Fellowship. https://purl.fdlp.gov/GPO/gpo146079.
Gaynor, S. W., & Lee, F. E. (2020). Advice for Women and Their Colleagues: An Interview with Frances E. Lee. PS: Political Science & Politics, 53(2), 310-312. doi:10.1017/S1049096519002129.
"Should Congressional Incumbents be Concerned About the 2018 Midterm Elections?", Center for American Politics and Citizenship, University of Maryland. December 2017. Download the full report here.
Areas of Interest
U. S. Congress
Public Policy
Degrees
Degree Details

History and Journalism (with Honors), The University of Alabama, 2013
Research Topics
American Politics
Methodology
Professional
Assistant Editor, Legislative Studies Quarterly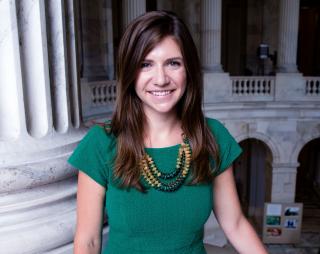 1135D Tydings
Government and Politics Department