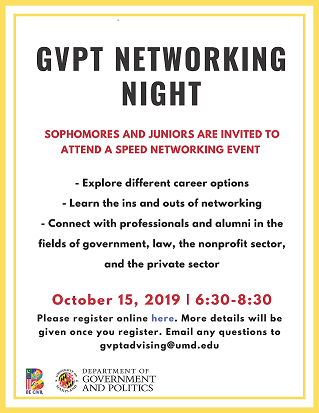 The Department of Government and Politics is hosting a speed networking night for sophomore and junior undergraduate students who want to explore different career options and practice networking with professionals in their field. Students will have the opportunity to learn the ins and outs of networking and connect with UMD alumni and other professionals. The event will feature professionals working in government, law, the nonprofit sector, and the private sector. 
The event will be Tuesday, October 15, 2019 from 6:30-8:00 PM in the Edward St. John Learning & Teaching Center. More details about the event format and the room number will be shared once you have registered for the event. Registration is required to attend the event. Please register here. This event is structured so you cannot simply drop in - if you cannot attend the full event, please do not register for the event.
Please direct any questions to Rachel Vierling - rvierlin [at] umd.edu. If you register for the event and then you are no longer able to attend, please send Rachel an email as soon as possible.