Internships
The GVPT Advising Office advertises internship opportunities weekly on the undergraduate blog, and advisors can assist students in identifying other internship opportunities. Undergraduate GVPT majors are strongly encouraged to take advantage of the university's close proximity to Washington D.C. and Annapolis by completing at least one internship experience. The University of Maryland provides the best of both worlds: the value of community on a college-town campus and the vibrant opportunities of the nation's capital. 
Where can you go from College Park?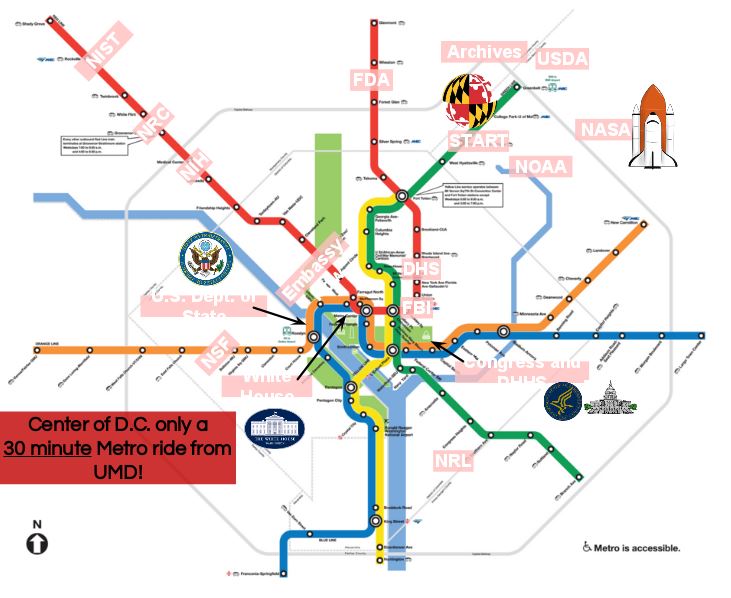 Where to Look for an Internship
GVPT Internship Database - Visit the internship database to get an idea of some internship opportunities in the field of Government and Politics and see where other GVPT students have worked in the past.
GVPT Undergraduate Blog - Visit the undergraduate blog for current internship openings on Capitol Hill, in the federal government, at nonprofit organizations and more.
The Career Center - The Career Center has a number of services including:
Careers 4 Terps: a database of organizations with part-time, full-time and intern positions.
Career Center Resource Room: The resource room has more general information on various career fields. This type of information is great to narrow down the various options for types of internships you might want to look for. Don't be afraid to contact an organization that interests you and ask them if they offer internships or if they might consider the possibility. Just because an organization hasn't sent a listing to the university doesn't mean a bright student couldn't work for them.
Other Resources: We receive information about internships continuously and will post links to them here regularly.
GVPT Internship Programs
The GVPT internship programs are managed by the department's Center for American Politics and Citizenship (CAPC); detailed information is available at https://capc.umd.edu/landing/Education. Questions should be directed to Rachel Vierling, CAPC Coordinator, rvierlin@umd.edu. 
Common Myths about Internships
Internship credit will fulfill my major requirements.
This is not always the case. Most internships are for 3-9 credits, yet at most 3 credits will count towards the GVPT major requirements. The remaining credits count towards electives that you need to reach the 120 credits required for graduation. It's best to save some elective credit for internships.
I have an internship which means I can receive credit.
Not true! Not all internships are acceptable for credit. All avenues for receiving credit require permission and often have deadlines the semester prior to the start of your internship.
I have a job that takes a lot of time; I can receive credit for it.
We understand that many students have significant financial obligations for their education, however, unless your current job is related to political science and includes substantive work in the area you may not use this for internship credit through GVPT.
I didn't receive credit while interning but I can earn the credit now.
Unfortunately, once you have completed your internship experience you will no longer be able to earn credit.
I can receive unlimited credit for internships.
The university does not allow more than 12 credits of internship (in any department) to count towards the 120 needed for graduation. The GVPT department limits internship credit counting towards our requirements to 3 credits (remember only graded credit applies to our requirements).