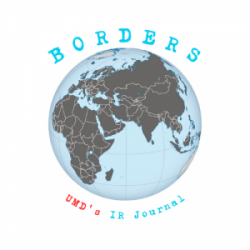 MAIR Home Page  
Welcome to BORDERS!
Introducing BORDERS, the latest international relations journal to emerge from the University of Maryland, College Park. As a platform for undergraduate and graduate students, BORDERS showcases a wealth of diverse perspectives and insights on topics within the field of international relations. Managed by the skilled MAIR (Master of Arts in International Relations) graduate students, each edition of BORDERS is carefully curated and edited to offer a comprehensive and thought-provoking collection of works. Join us in exploring the complex and multifaceted landscape of international relations through the pages of BORDERS.
Founded in 2022 by students in the MAIR program, BORDERS is the University of Maryland's student-run peer-reviewed research journal in international relations, publicizing and spreading recognition of original work by undergraduate and graduate students. BORDERS is a registered student organization, and the submission process and content of the journal are at the sole discretion of the students serving on the Board of Editors. Please see below the list of submission guidelines.
                                                                                                              Submission Deadline: Coming Soon (Fall 2023)
Submission guidelines:
1. Papers must be able to fit within the realm of IR (very flexible!) and must be respectfully written. 
2. Papers can be pieces written for a class or for personal use. 
3. All papers should use 12-point Times New Roman with 1-inch page margins. 
4. You may include a cover page but DO NOT INCLUDE self-identifying information anywhere in the body of your submission.  
5. There are no page number constraints. 
6. There must be a References page at the end of your submission (following APA format). 
7. Any figures, illustrations, tables, or photographs must contain proper copyright permissions. 
8. As a condition of submission, authors indicate their agreement with the following stipulations. 
Email us with any inquiries at borders [at] umd.edu and follow our Instagram @mairborders!